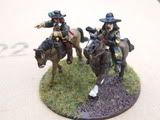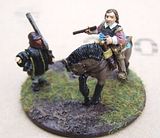 well not exactly arch enemies as Oliver Cromwell, albeit a rising parliamentarian and puritan star, was only just coming to prominence whilst Charlie was still fighting for his kingdom.
Oliver Cromwell was an MP from Huntington, Cambridgeshire who raised a troop of cavalry early in the war and came to be second in command of the New Model Army under Sir Thomas Fairfax at the end of the war. Cromwells main rise to power came after the 1st civil war when parliament was looking for proven military leaders who were willing to take the war and parliaments control to Ireland and Scotland, both of these posting were refused by fairfax leaving Cromwell with the opportunity to step up to the highest military position, he would later become Lord Protector (Britains only ever dictator). Oliver cromwell was a signatory on charlies death warrant, unlike fairfax who refused to sign and left public office.
These models are Foundry with a Perry ADC for charles. These models have been painted for about 8 years so you might spot the change in style between the foundry and the perry models. As part of my slow converting of lead into a fully completed army (is there such a thing) i had been painting and rebasing my entire ECW army and it is almost done, one or two cannon and specials to do, plus 2 units of warlord plastics that i got the other year. Having read a bit more recently about the wars after a long absence from my book collection i do have an idea of getting some troops for the Irish and Scots campaigns too. Another thing for the list.